Anıl's Story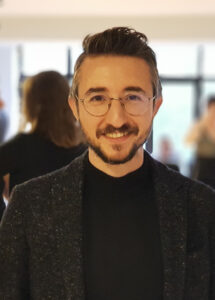 Anıl's fireworks journey began when he was a college student studying environmental engineering. Since the demand for fireworks in Turkey is only during the summer months, he had plenty of time to focus on school while working.
He earned his fireworks license in 2005, focusing mostly on hand-fired displays. Anıl shot many shows until he realized the danger of this close proximity firing method (he admits that – although it was an adrenaline-filled experience to fire up to 8" shells from the side of the racks with a firing stick – the risk was too great.)
Anıl switched to using small Chinese wireless firing systems, later shifting to Galaxis Showtechnik systems. His passion for scripting led him in 2019 to Finale Fireworks, the world's most advanced fireworks display choreography software company, where he currently focuses on creating the most innovative designs possible.
Anıl's Background
Anıl and his father created Izmir Havai Fisek (Izmir Fireworks) in 2011, but only because of a somewhat unfortunate incident.
His dad previously worked in a toy shop. One day a huge fire destroyed the entire store, ultimately changing the direction of their lives. Both always had an interest in fireworks as amateurs – they had even taken small steps into making consumer displays – but the destruction of the shop drove them directly to fully embracing fireworks. The new business was quite a success and became their primary source of income.
One more thing: Anıl is an Argentine Tango dancer and instructor who began dancing in 2005. He said all three hobbies – teaching Tango, DJing, and performing – "feed me in the pyromusical field because there are similarities between creating dance and fireworks choreography. Many different disciplines are good individually but, when the choreography comes together in harmony, the result is like a beautiful classical music composition."
Anıl's Show
Anıl describes "Rising Up Together" as focusing on people, ideas, achievements, and feelings. "As fireworks expand, they come together in harmony. My aim is to reflect the idea of togetherness while accelerating the show step by step to reach the finale's big celebration!"
This is Anıl's second virtual pyromusical competition. He won first place in Finale 3D's "Hobbyist" category design competition in July 2020.
Anıl's PyroJam Win
"It is one thing to design a show in a virtual platform; it's another to actually see it in real life. My dream is to choreograph big shows like this in fireworks competitions. To be chosen as one of the PyroJam finalists is a promising start for me. I had the chance to watch the entries, and I am very proud to be a finalist among those wonderful designs."
Anıl's Wish
He wants the crowd to be "bursting with enthusiasm" from the start of his show until the final explosion.