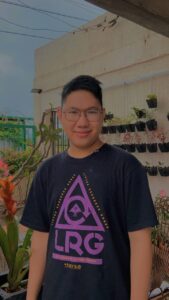 Jan's Story
Jan shared that he has always been curious about fireworks and firecrackers (it's a huge cultural fascination in the Philippines.) His pyromusical interest was piqued when he watched a show from Dragon Fireworks in 2012. Since then, Jan said he has always looked for ways to design a show on his own.
Jan's Background
In 2013, Jan discovered the fireworks simulator FWSim, as well as a group of young aspiring Filipino pyromusical designers and pyro enthusiasts called Philippine Pyro Enthusiasts Association (PPEA.) This is where he started to learn how to design shows and compete in friendly competitions among friends.
Jan is currently one of the organizers of a digital fireworks festival called IGNITE! alongside friends Vander Tenedero – the former designer for Dragon Fireworks – and Forrest Salvador, a professional graphic designer and aspiring pyromusical designer. They all helped each other with their PyroJam entries "despite the event being a highly competitive environment."
Jan's Show
"Bakunawa" (The Tale of the Lunar Dragon) is a tribute to Jan's culture. In Philippine mythology, the Bakunawa is a serpent-like dragon. Eclipses, earthquakes, rain, and wind are all thought to be caused by it. It's usually thought to be a sea snake, but it's also said to be from the underworld or the sky.
Once upon a time, there were seven moons in the night sky, believed to have been created by a supreme god named Bathala. However, once every 100 years, the Bakunawa was astonished by the fact that one of the moons' lights would rise up from the pitch-black ocean and swallow it whole, resulting in lunar eclipses and earthquakes.
The Lunar Dragon is afraid of loud noises, so all the ancient Filipinos gathered pots and pans and went toward the ocean. With the help of the people, the Bakunawa has finally been defeated and they were able to protect the last moon. Through the sounds of music and colors of fireworks, it will showcase the story of the Lunar Dragon.
Jan's PyroJam Win
Jan shared that "after seeing close friends compete on the international level with other Filipino companies, it is an honor to have a similar opportunity through PyroJam."
Jan's Wish
He wants the PyroJam audience to have an "amazing" time while watching his pyromusical.